By: Kiel Vincent Fajardo, Gr. 8 – Aristotle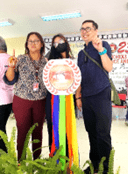 Nathalie Thyne O. Ea and Erine Julieanne De Jesus qualified to the Regional Schools Press Conference (RSPC) after winning first place in the Photojournalism Contest, English and Filipino categories respectively during the recently concluded Pasay City Division Schools Press Conference (DSPC) held on April 29, May 5 and May 6 in Epifanio Delos Santos Elementary School (EDSES). 
Winners of the 41st DSPC were barred on May 6 at EDSES covered court. Joining Ea and De Jesus in the winning circles are 25 student-journalists of Pasay City West School.  
The winners for the contests in the English Category are as follows: Yasmine Resse Rossel, Lee Robert Guadana, Cy Roldan Ravago, John Paul Mira, Renee Corazon Muyot, Hector Cuartero, and Jonabel Serafica, 2nd place – Collaborative and Desktop Publishing); Delfin Angeles III, 2nd place – Copyreading and Headline Writing; Angela Kylie Barrios; Kiel Vincent Fajardo; and Abbie Raňosa, won 3rd place in feature, news andeEditorial writing respectively. Rounding up the winner in the English category is Petraz O. Cabahug who landed at 4th place in editorial cartooning.
Meanwhile, the winners for the Filipino Category are Jessamae Denine Petalio, Stephanie Rilloraza, Paola Marie Signo, Harvey Marasigan, Beriel Jairus Polo, Job Tumanda, Julianna Tomas, best infomercial (radio broadcasting); John Nathan Baterzal, 2nd place – Pagsulat ng Balita; Ma. Raiza Rilloraza, 4th place – Pagwawasto at Pag-uulo ng Balita; Alexa Mae Panagsagan and Clarice Villaflores, 5th place –  Pagsulat ng Balitang Isports and Pagsulat ng Lathalain respectively.