by: Cynthia L. Abarquez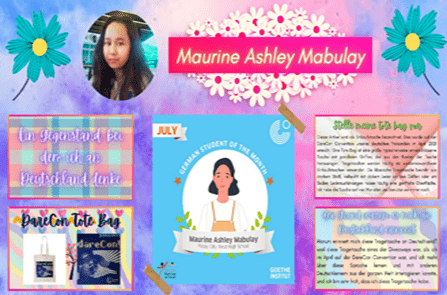 A number of Pasay City West SPFL- Deutsche learners snagged multiple wins in varied Deutsche activities sponsored by Goethe Institut Philippinen.
First of which is the Darecon Convention 2021 held on April 23-25 when the team of Jazzelle Grace Albaladejo, Maureen Ashley Mabulay (Grade- 10 Rizal) and Samantha Danielle Sayson and Maria Geneva Talosig f(Grade 9- Aguinaldo) qualified to the Philippine team along with three other learners from Jose Abad Santos High School and two from The German European School Manila. The said four learners made it through their video entries as a team showing how young people imagine their future, and what they dare to make this future happens. Other participating teams in the said online convention came from Singapore, Indonesia, Myanmar, Thailand, Malaysia, Australia (host country), Vietnam, and Germany.
Albaladejo, Mabulay, Sayson, and Talosig also shone bright in the vlog making contest and took home video camera. Likewise, Mabulay was named as German Language Student of the month (July). Coming in as second best is Clark Louis Nolasco (10_Rizal).
Mrs. Lilibeth A. Dela Rosa is the teacher/trainor of Albaladejo, Mabulay and Nolasco while Mrs. Jenelyn E. Bareng trained Sayson and Talosig.