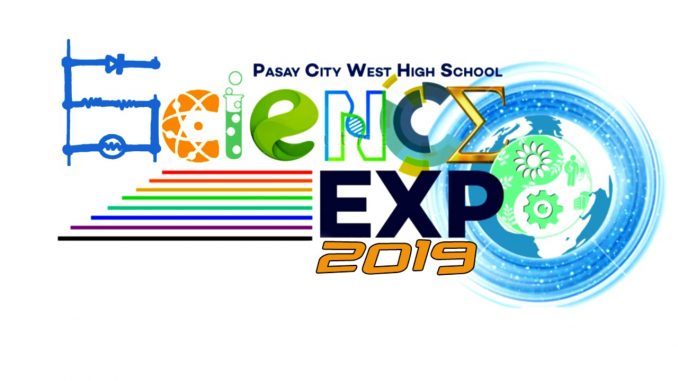 Innovative, interactive and creative science projects of both STE (Science, Technology and Engineering) and regular students flooded the Pasay City West High School (PCWHS) Science Expo 2019 held on February 19-20, 2019 inside the campus.
Dr. Rodolfo Sumayao Jr., an alumnus of PCWHS Batch '98 who is now the Vice Chair of the Chemistry Department, and Associate Professor and Research Fellow of the De La Salle University served as the guest speaker. He was introduced by Mrs. Eva E. Sabarillo, Head Teacher III of Science and Technology Department of PCWHS. In his talk, he emphasized the role of the teachers to cultivate amongst students the love of science and research especially in this modern times where a lot of destructions like social media can divert their attention. Dr. Myrna B. Gaza, Principal IV of Pasay City West High School welcomed the participants and guests in this two-day event. She recognized the efforts of the teachers to teach and guide the students not just in this event but throughout the years. She also congratulated the students for a job well done as manifested by the products they created and designed for the exhibits. Dr. Maripaz T. Mendoza, Education Program Supervisor (EPS) in Science of the Division of City Schools in Pasay delivered an inspirational message. She addressed the importance of rich and imaginative idea of the students that gears on the innovations driven by inquisitiveness and finally ends achievement that will inspire others. Mr. Ralph C. Malacad, Chair of the PCWHS Science Expo 2019 stirred up the curiosity of the guests and participants on the content of the exhibits through a video presentation he presented.
The theme, "Imagine, Innovate, Inspire," embodies students' products in the different science and add-on subjects. The activity served also as their culminating activity for assessment and evaluation of their performance anchored to the principle of the outcome-based assessment procedures. Various products and outputs of the students resulted from the careful designing process of the different activities guided with reflective assessment procedures by the Science Teachers.
On its third year, the booths of projects and products of the Science Expo were generally divided into four categories. Dubbed as "Fronts Shows," the first category was consist of Science Amazing Experiments, Environmental Science Documentary Show and Virtual Reality Show. The second booth was flooded with creative projects of regular students in four subjects in science namely Earth Science, Biology, Chemistry and Physics. Students and guests enjoyed the third category composed of different interactive games integrating the concepts in four major subjects in science. Finally, the fourth booth is named as the "Expo Highlights" was composed of innovative projects of STE and students in Biotechnology, Consumer Chemistry, Electronics and Research. Guest exhibitors from University of the East (UE) Robotics and VR was also part of the exhibit.
Students and teachers from nearby schools in Pasay, both private and public came over to witness the said expo.