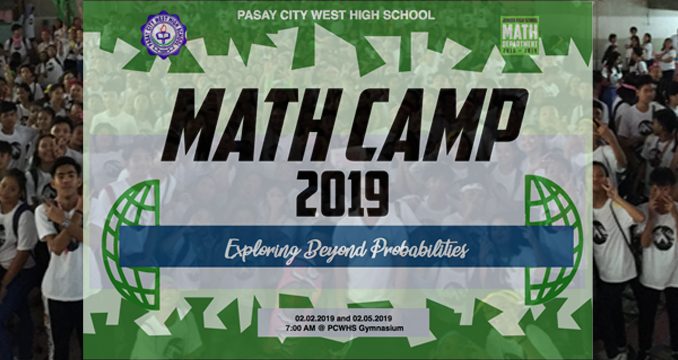 There is fun in numbers!
This is what Pasay City West High School students proved during the celebration of the number's month held at the school campus for the whole month of January 2019.
Themed "Mathematics for International Competitiveness" served as the plumb line in crafting challenges gearing towards the improved performance of students in the subject. Several activities were featured. They are: Math Blitz, Modulo Art, Quiz Bee, Rubik's cube challenge, Sudoku Challenge and Math Camp 2019.
Highlight of this year's event is the school's launching of Math Camp 2019 where an estimated 1500 students from Grade 7 to Grade 12 trooped in. Campers were equally clustered into five groups – Red, Yellow, Blue, Green, Pink and White. White troopers led by Jhon Michael Lanuza of STEM 11 accumulated the highest points and brought the championship home for the first batch while the Pink Troop led by Denbert Tiamzon of Grade 10-Galilei STE emerged the best for the second batch. Each participant of the camp enjoyed the activity. A camper quipped "The camp helped me gain more friends from other batches who let me enjoy Math more! Math Camp 2019 is amazing!"
The wit of the students was tested in the Quiz Bee which was divided into two categories – regular class and STE class. Winners of the regular class are the following: Amaru Floyd Canta, 1st place; Daniel Bartolome, 2nd place; and Charles Tagud, 3rd place for Grade 7. The next batch of winners are Sean Simon Guinto, 1st place; Jazelle Grace Albaladejo, 2nd place; and Casey Marie Tating, 3rd place for Grade 8. The next group came from Grade 9 led by Hervin Hernandez, 1st place; Louis Miguel Baldos, 2nd place; and Joy Frela Fajardo, 3rd Place. Emerging as winners from Grade 10 class are John Louis T. Magadia, 1st place; Kyle Andrew P. Niez, 2nd place; and Rachel Mae J. Quibete, 3rd place. Winners of the STE class are: Cyrill Dasalla, 1st place; Clarence Fuentes, 2nd place; and Vince Nico Salaga, 3rd place for the Grade 7. Meanwhile Grade 8 class has the following winners: John Mackinley Maguate, 1st place; Armer John Maglangit, 2nd place; and Jesmera Contreras, 3rd place. Ruling the Grade 9 class are: Dwight B. Ciervo, 1st place; Sean T. Ventura, 2nd place, and Risshi Mae B. Lumbre, 3rd place. Finally, victorious in Grade 10 class are: Gary Clyde Rabe, 1st place; Nomer Senador, 2nd place; and Breanna Walican, 3rd place.
For Sudoku challenge, the following wizards were declared as winners: Gary Clyde Rabe, 1st place; Rondave Nuñez, 2nd Place; and Grace Gabrielle Banzali, 3rd place.
Students showed their creativity in Modulo Art contest. Declared as winners are: Alliah Orca and Janna Delos Santos, 1st place; Vianca Mae Reyes and Sean Troy Rios, 2nd Place; and Jessica Dela Cruz and Kyle Andrew Niez, 3rd Place.
Eivan Cañizares remained the champion of Rubik's cube challenge by solving the 3×3 Rubik's cube in just a matter of 10 seconds – just a second short of his record last year. Coming in 2nd place is Elijah Karl V. Blardony while John Lloyd Grencio settled for 3rd place.
In Math Blitz, Gary Clyde Rabe proved that he is still the king of three mathematical operations (addition, subtraction and division) while Norielle Lopez emerged as the best in Multiplication round.