by Cynthia L. Abarquez/Celia L Singcol
"Para sa Batang Pasayeňo."
Deeply passionate in advancing the education of Pasay City children, Mayor Emi Calixto-Rubiano, Cong. Antonino Calixto, and the rest of Pasay City Council has been prioritizing the constructions and rehabilitations of school buildings within the city and Pasay City West High School has been so blessed to be one of those schools.
Committed as they are, the members of Pasay City LGU braved the fears and dangers of the COVID 19 pandemic just to complete the renovation of the school's Bldg. 1. The four-story-building which houses 19 rooms was now fully tiled and newly painted. The edifice was also given masonry works as well as finishing and plumbing works. Electrical installations were also done. The 120-renovation project begun on July 21 and was completed on Nov. 21, 2020.
Sheltering on the newly renovated building are different offices, two function halls and 10 classrooms. Located at the ground floor are the workplace of the administrators and other staff. To wit: Office of the Principal, Office of the Assistant Principal, Records' Office, Finance Office, and the Conference Room. Up on the second floor are the Guidance and Counseling Office, the School Library/Learning Resource Center/School-Based Management Office and the Audio-Visual Room.
The third level of the building was allotted to five classrooms and one room for the Special Program in Foreign Language (SPFL) while the topmost floor was apportioned to the Values Education Faculty room and five more classrooms.
Prior to this development, the City Council, has also funded the improvements of two other school buildings. Bldg. 3 looks like a newly built structure as new doors and windows were installed while rooms and roofs were repainted. The building was now completely tiled including the school canteen. Likewise, Bldg. 4 was given the following improvements: replacement of doors and windows, repainting of walls and installation of tiles in all rooms and hallways. Electrical repairs were also done in the said two buildings. Renovations on Bldg. 1 & 2 started on 2017 and lasted util the first quarter of 2020.
With these developments, there is no doubt that good learning in Pasay City West High School can be better imparted to the students as long as DepEd Pasay and LGU Pasay are working hand in hand. Our youths will surely be assured of quality education which eventually will make them functional residents of Pasay City.
Kudos to the Local Government of Pasay City headed by Mayor Calixto-Rubiano, and Congressman Rubiano. Pasay City West High School has now become a better home where students can acquire better learning. With Mayor Emi and Congressman Tony as our leaders, every child in Pasay City can be assured of receiving not just free but quality education. Big thanks to both the Mayor and the Congressman! They are no ordinary politicians who are only good in making promises to their constituents. They are passionate public servants who always look for the welfare of their people. With them as our leaders, Pasay residents will no longer succumb in their homes to sigh but rather they will have the chance to go out, spread their wings, and soar high!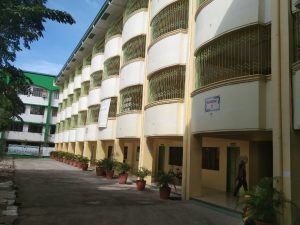 The Learning Place. Building 1 is now ready to be used. This will surely be fully used when students are finally allowed to come to school.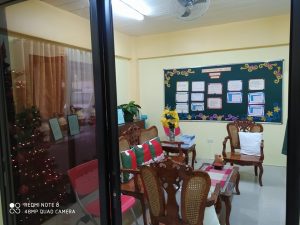 Please, come in. The principal's office is always open for the school's clientele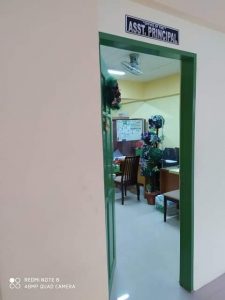 Welcome to PCWHS. Like the Principal's Office, the Office of the Assistant Principal will always accommodate anyone who has concern with the school.
Ready to listen. The Guidance and Counseling Office is big enough to accommodate students who need counseling.
Research Facility. The new school library will soon serve its purpose. Students will surely have fun in doing their research as tablets with internet access will be available for them.
Come inside. Learning will surely take place in this well-lit and properly ventilated classroom.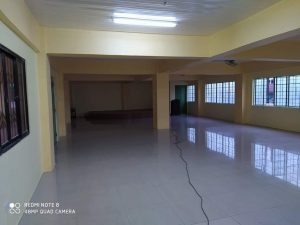 A Place to Perform. The wide-spaced audio-visual room will be of great help in staging plays, oratorical contests, and other activities for performing arts.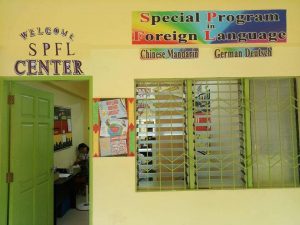 Learn new language! The SPFL room where selected students are learning Mandarin and Deutsch.